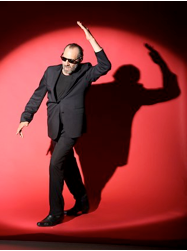 Austen Tayshus was born at Sydney's first Comedy Store in Jamieson Street in 1981. He stood up for the first time after a fairly precarious delivery, in March of that year.
By 1982, 'AUSTRALIANA' was ready to record and it was released by Regular Records through Warner music in June 1983. It sold in excess of two hundred thousand copies, went double platinum and still holds the record for the highest selling Australian single ever.
Austen Tayshus became a household name immediately and began touring extensively throughout Australia and New Zealand.  'AUSTRALIANA' was a hit in New Zealand too.
Austen hosted the Narara Rock Festival in 1983 and 1984, which showcased many big Australian and international rock bands.
Throughout the 1980's Tayshus appeared with the biggest bands in Australia, as MC and as support act, including Mental as Anything, Inxs, Cold Chisel, Midnight Oil, Uncanny X Men, Richard Clapton etc.
In 1984 Austen Tayshus sold out the Sydney Entertainment Centre, supported by local comedians. He also released the 'PHANTOM SHUFFLE', produced by Martin Armiger, which reached No.16 on the Aria charts.
At the Countdown Awards in the same year he was awarded an Outstanding Achievement Award for 'AUSTRALIANA'.
Austen has been producing a comedy record almost every year since 1984. Most of these records have been nominated for Arias. A full list can be accessed through the
About page.
Austen Tayshus has performed numerous times at the Melbourne and Sydney Comedy Festivals and also at the Adelaide Fringe. He has worked all over the United Kingdom, Los Angeles, New York, Bali and Fiji. He has performed for many corporations and charitable organisations, as well as at many celebratory occasions including birthdays, bar mitzvahs, weddings and circumcisions.
In the late 80's Austen toured Australia with other well-known comedians and has always enjoyed introducing young, new comics to his audiences. Developing a style of challenging, provocative and highly dynamic stand up, which is not to everyone's taste,  has consequently made Austen Tayshus a must-see comic.
His work is improvisational and sometimes frightening, and tends to polarize his audiences, but is attractive nevertheless as he draws his audience in like a magnet.
By the 90's, Austen had moved to L.A. to begin pursuing a movie career. He had a small cameo in the Sharon Stone movie 'SLIVER' and by day auditioned for many big movies. By night Austen Tayshus worked in all the comedy clubs in L.A. including the Comedy Store, the Improvs in Santa Monica and on Melrose, the Laugh Factory, Igby's and Carolines in New York.
His stay in Los Angeles culminated in a collaboration on a low budget feature film – 'DREAM FACTORY, which he co-wrote and starred in. The film was a tragi-comedy about Austen's last days in L.A. trying to become a big shot.
Returning to Australia in 1997, Austen wrote and starred in 'INTOLERANCE' – a short film of a true experience that developed into one of his stage routines. INTOLERANCE won Best Film and Austen Tayshus won the Best Actor award in Tropfest 1998. This led directly to the Jane Campion film 'HOLY SMOKE', Emma-Kate Croghan's 'STRANGE PLANET', Paul Fenech's 'SOMEWHERE IN THE DARKNESS' and Baz Luhrmann's 'MOULIN ROUGE' among many.
Currently Austen Tayshus is touring Australia. He is developing several film and television projects.